CHEDI MUSCAT
March 13 2014
Ah Chedi, you romancer you! You completely had me under your spell.
I had planned to whisk my husband for our second wedding anniversary since last year's anniversary was pretty uneventful. We seemed to be the only people that haven't been to the Chedi Muscat and with everyone raving about the place, I was convinced and booked a weekend stay at their resort.
The perfectionist me did not make it easy for the booking staff. "Can I order a bottle of champagne on the first night", "Can you book us a spa appointment", "Can I arrange a bubble bath with roses", all of my request were handled with politeness and care. It's a good start.
We arrived late at night and we were welcomed the moment we stepped out of the car. Then you are escorted to the lounge area and offered drinks while they check you in- no need to stand around the reception area to do that. After mere minutes, we were escorted to our room. Everything I had asked for was there, I'm happy. Anthony was quick to point out that every detail of the room is thought out and the room has seamless design symmetry.
Our only itinerary for the weekend was to take advantage of the hotel services and amenities. We had breakfast at one of their restaurant and was greeted by this lovely lady that showed us around the buffet area, excitedly showed me where the miso soup is located (bless her, she thought I was Japanese). After breakfast, we stepped outside and we were in paradise. Pristine setting, elegantly landscaped surrounding, calm and breathtaking view of the ocean. We found our spot at the long zen infinity pool and marked our territory in one of the poolside beds. The sound of the waves, slight breeze and warm sun made Anthony snooze in seconds.
We dragged ourselves out of the pool bed to get ready for dinner and headed back to our room. Chilled Prosecco compliments of the hotel awaited us. Shower can wait a little longer.
After a few tipple, it's time to eat. I slipped on this dress and had a wonderful meal at the courtyard of the Restaurant. We ended the night walking around the hotel vicinity peeping at the different chalets (for reference only folks, nothing pervy).
Our last day at the hotel happened to be our wedding anniversary. Not wanting to repeat our wedding anniversary at the airport last year, I made sure to book a day at the spa for a Himalayan hot stone massage, relax some more by the pool and had a nice lunch by the beach. Our weekend went without a hitch and that's all because of the hospitality and warmth of the staff at the Chedi. All are well spoken, accommodating and made us feel incredibly special.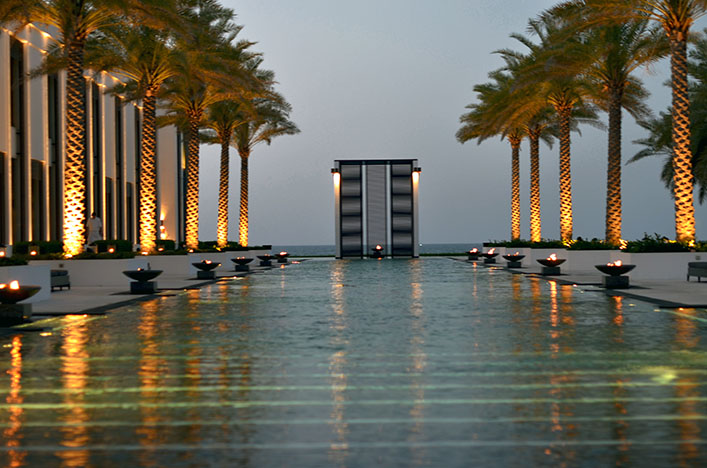 So Chedi, thank you for romancing Anthony and I. You are truly ravishing and we shall come back.
The Chedi Muscat
North Ghubra 32, Way No. 3215 P.O. Box 964 Al Khuwair, Muscat 133, Oman
+968 24 524400
www.ghmhotels.com/en/chedi-muscat-oman