VALENTINES DAY MAKEUP TUTORIAL
January 27 2015
Valentines is just around the corner (18 days to be exact) and what better way to ring the upcoming holiday with a Valentines Day makeup tutorial. After my last visit to Dubai, I'm armed with expert tips and makeup techniques from Inglot's makeup artists, I thought I'd create a romantic look inspired by their Fall In Love collection. This makeup look focuses on getting that bedroom eyes without it being a smoky eye and a breathable skin. Men don't like a pile of makeup on women, so you want to concentrate on enhancing your skin without building on products (no contouring here, sorry!), but giving them that seductive eyes.
Hope you like it! Leave a comment below if you have any questions about the products that I've used.
(L-R)/(Top and Bottom): Chanel Cream Blush in Chamade, HD Brows Brow Palette, Anastasia Tinted Brow Gel, Inglot Fall In Love Collection Palette in Silver Blues, Rose Mist, Golden Brown, Inglot AMC Eyeliner Gel 96, MAC Paint Pot in Painterly, Bobbi Brown Skin Foundation, Make Up Forever 2C Lipliner, Chanel Lipgloss in Mica, Inglot Freedom System Palette with Concealer Green, Concealer Yellow, Lipstick 35, Eyeshadow 30, Eyeshadow 397, Inglot HD Scuplting Powder Palette in 457, 502, 504, 503
Step 1: After applying your favorite foundation, apply concealer (Inglot cream concealer in Yellow) under the eye on an inverted ice cream cone shape and smooth with a concealer brush. Dab a small amount of concealer around the nose area to cancel out any redness. A yellow tone concealer helps evens out skin tone.
Step 2: Prep your eyes with an eyeshadow primer (MAC Paint Pot in Painterly) to make the shadow stick and more vibrant.
Step 3: Using a dark shade powder (Inglot HD Sculpting Powder in 505), contour eyes by following the shape of your eyelids and blend with a blending brush (MAC 224). This will act as your perimeter when applying eyeshadow.
Step 4: Sweep shimmery brown eyeshadow (Inglot Golden Brown) across the eyelids with an eyeshadow brush (MAC 239).
Step 5: With a clean eyeshadow brush, apply a Rosy eyeshadow (Inglot Rose Mist) along the lash line, concentrating on center.
Step 6: With a blending brush (MAC 224), blend the two color eyeshadows using a circular motion to smooth out any harsh lines.
Step 7: Apply the same brown eyeshadow (Inglot Golden Brown) at the bottom of the lash line.
Step 8: Dot a small amount of the pink shadow on the inner corners of the eye to open up the eyes.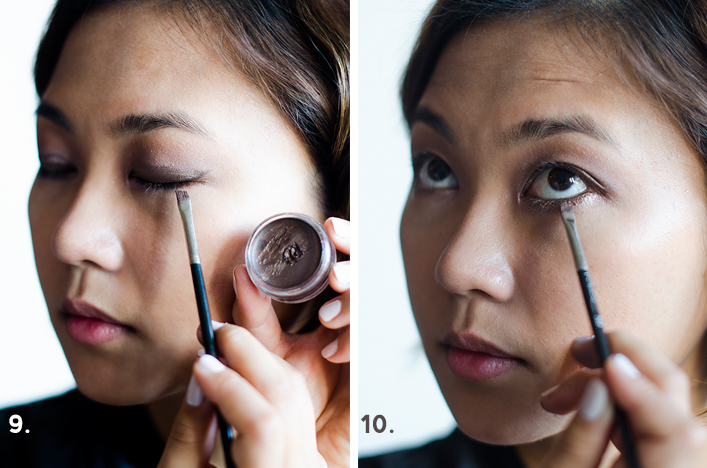 Step 9 and 10: Line a dark brown eyeliner gel (Inglot AMC Eyeliner Gel 96) along your lash line (top and bottom). A brown liner will give the eyes a more subtle smokey eye compared to a black liner.
Step 11: Apply two coats of your favorite mascara (Benefit's They're Real Mascara).
Step 12: Using an angled brush, fill in your eyebrows with brow shadow (HD Brows Brow Palette), concentrating on filling in the sparse area and finish it off with a brow gel to set it in place.
Step 13 and 14: Dot a small amount of cream to velvet blush (Chanel Cream Blush in Chamade) just on top of the apples of your cheeks (not directly) and blend well. The color is intense, but when blended well, it gives a natural finish.
Step 15: To make your lips pop and the color long lasting, draw a nude lip liner (Make Up Forever 2C Lipliner - an Olsen twin favorite) all over your lips, concentrating on defining the edge.
Step 16: (optional). I know men hate lipgloss because it's not kiss-friendly. You can opt to skip this step but if you want to add a bit of texture to your lips, apply a small amount of lipgloss (Chanel Lipgloss in Mica) on the center of the lips.
Step 17: Add a small amount of illuminating cream (Clarins Beauty Flash Balm) on the corner of my eyes, on the bridge of my nose, along my brow bone and even on your cupid's bow.
Step 18: Finish the look by sweeping through powder (Inglot powder 501) on the forehead, bridge of the nose, and on the jawline to take away any unnecessary shine. You're after dewy skin, not oily.